Pearson Partners Profile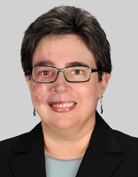 Sarah Bowie, Consultant
As featured in our Q1 2013 Searchlight Newsletter
What was your first job, and what was it like?
My first job, at 16, was doing food prep at our small-town Sonic. One day, I was asked to chop jalapeños, and nobody in the kitchen that day (I worked only one day a week, and it took longer than that to make friends) told me to wear gloves. My hands turned the color of a live lobster and didn't stop hurting for hours. I had to leave my shift early. Interesting that I am supporting Sonic as a recruiter today—but for bigger jobs than jalapeño-chopper.
How and when did you get started in the executive search business?
For five years, I worked at the Canadian Consulate in Dallas. I found myself having to explain to potential future employers exactly what kind of business the Consulate did. Eventually, I had a successful interview with an executive search firm, where the interviewer noticed on my resume that I was a National Merit Scholar. He was also in a dinner club with someone who had worked at the Consulate. You never know what in a resume will catch someone's eye. After 14 years supporting a senior partner and practice leader at that traditional search firm, I had the chance to transition to recruiting at a sister company that was Internet-based.
Why did you feel this was the right field for you? What do you love about your job?
Interestingly, executive search has a lot of similarities with working for the Canadian Consulate and Canadian Immigration, including providing customer service to a wide variety of people and processing and prioritizing their needs. The changing climate of people dynamics and the constant triage of needs keeps me interested. I'm also a writer, and executive search seems to value writing skills more than some other kinds of recruiting might.
What are some highlights of your career so far? Tell us about your best days or proudest moments?
In my second year at Hudson Global, I was the top-rated recruiter in my division, and the award ceremony that year was held in Cancun. I know my husband considers that all-inclusive trip to be the highlight of my career. I'm also very proud of having worked with the same people more than once because it means I left a good enough impression that they were interested in working together again.
Describe you leadership style
I've been told I come across as a true team player and a knowledge resource for others, without ego.
What is your philosophy or approach when it comes to client relationships?
I try to bring a customer service orientation to all recruiting interactions with candidates, sources, clients, and anyone on the other side of an e-mail or phone call. This includes being a good listener, being responsive, and caring about client goals and candidate goals, ahead of Pearson Partners International's goals.
How have you seen PPI grow and change over your tenure?
My first year with Pearson Partners was one of market challenges for the company. I was glad to see that PPI invested in hiring me and others, and that they considered 2012 in the context of a longer cycle.
How has today's challenging job market affected PPI's business? How has the company adapted?
It seems there are no more "easy searches—but probably, there never were. Clients come to us with their toughest searches, usually when they need a needle-in-a-haystack combination of skills, experience and education. And often, employed candidates are hesitant to leave the jobs they have for something new, especially when it requires relocation. However, the attitude at Pearson Partners is that our clients are counting on us, so let's hit the phones and the laptops and make progress happen.
What do you think is the key to PPI's repeat business with top companies? What do we do better than anyone else?
I believe Pearson Partners has gone beyond excellent customer service to position itself as a true business partner to clients—one that understands market conditions and long-term client goals.
What do you like to do outside of the office? What are your hobbies or passions?
I collect art, and I love to read. The passion for art has come into the office—I have many colorful canvases hung around my desk. They inspire and distract me when I need inspiration and distraction.
,strong>What motto do you live by?
My people motto is, I try to understand other points of view and remain open to input. My project motto is, start with what you know, and use that to figure out what you don't know.
If you had to make a career change tomorrow, what job would you choose, and why?
When I was 40, I took several months off and wrote full-time at home. If I had the financial resources to do so, I might gather up my courage and try that again.